Losing the precious images and videos on our phone is one of the dreaded occasions as they are technically records of the everyday life of anyone living in 2019. Phones have most necessary information tied to our lives. It has replaced over 40 devices ranging from the calendar to clocks. Getting through the day without our phones aren't less than a nightmare. The possibility of losing the data on the cell phones is only as far as a virus attack or dropping it in the water or theft of the device away. But, if the data on the phone is backed up, it could be downloaded into any other device, and we could go on living our lives as nothing has changed. We have shortlisted the best online backup apps for android phones that would keep your data safe.
Amazon Drive
If you are looking for a budget-friendly app that comes with a few perks, then your best call could be Amazon Drive. You might not know this, but if you are an Amazon Prime subscriber, then you already have an Amazon Drive. If you have tons of photographs on your phone and it is taking up all the space, do not worry. Amazon Drive free plan offers unlimited storage space for photos. However, you cannot store more than 5GB non-image data on Amazon Drive for free. The paid plan will allow you to store as much as data you want without any limits. Once you install Amazon Drive in your android phone, all the photographs will be automatically backed up, and you can access them from any device of your choice.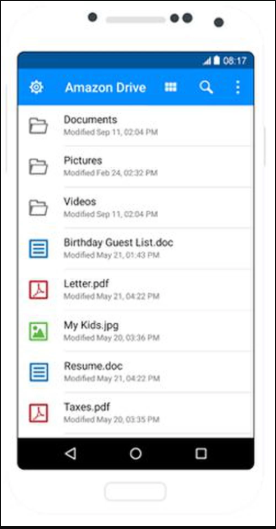 Pros
The storage space utilisation is visible.
Ensures safety
Automatic backup
Has a timeline-like system
User-friendly
Fast
Cons
In mobile upload file size is restricted to 2GB
The desktop application isn't great
Credit card information is required for the free plan
No file versioning
Google Drive
If you are not much of a tech savvy person but wants a backup for your phone, then Google Drive is an easy choice. Anyone with a Gmail account will have access to their Google Drive, and it comes with free storage space of 15GB. Unlike Amazon, you do not get separate space for photographs. The Google Drive supports all file formats and is easily accessible from any device. The settings will allow you to enable offline access as well. The free plan is perfect to store personal data safely.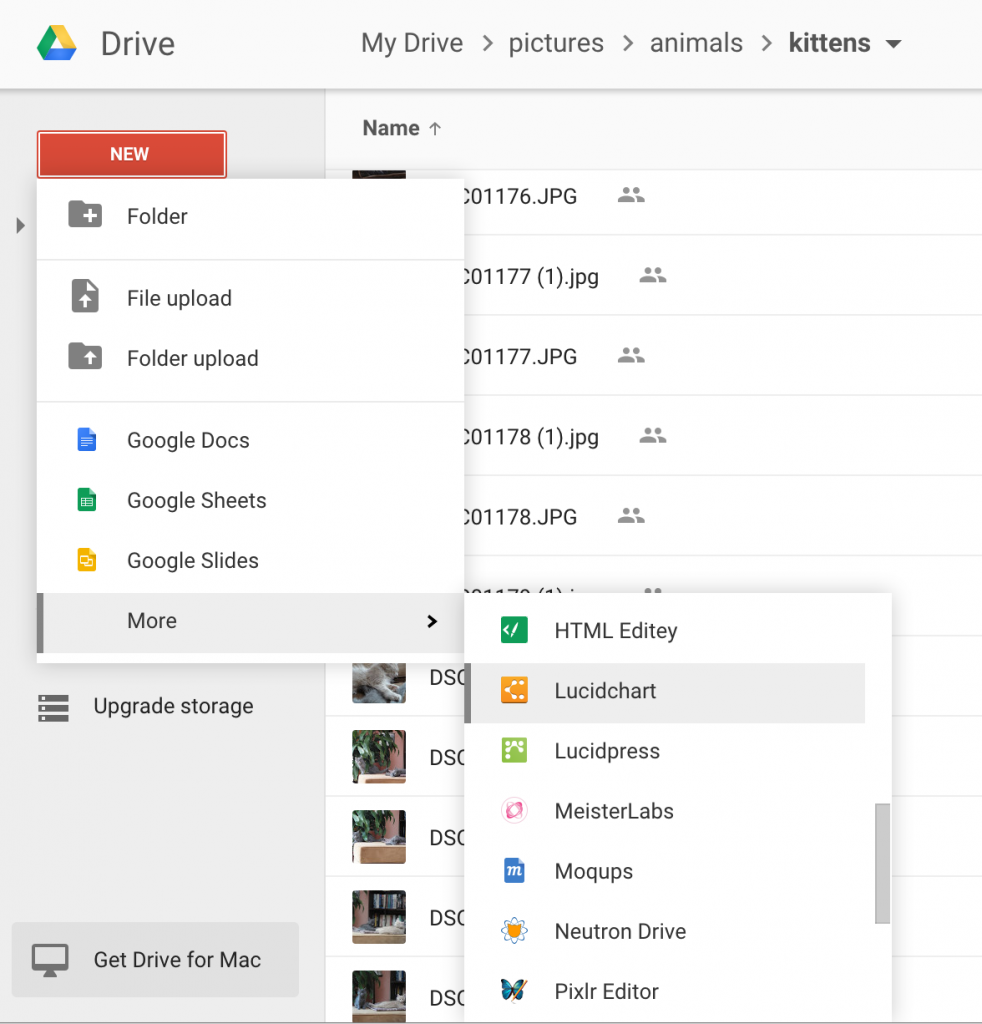 Pros
Integrated
User-friendly
SSL encryption ensures privacy
Files can be shared
Cons
No password protection for files
Editing offline can be difficult.
OneDrive
OneDrive is a lot similar to Google Drive in terms of features. But, it offers a lot less free storage space. The free plan will only get you 5GB storage space, but the paid plans can get up to 5TB storage space. The paid plans are designed for businesses. OneDrive is integrated with Microsoft apps and products.
Pros
Automatic (optional) backup for photographs and videos
Simple sharing features.
Cons
Storage space is less in the free plan.
No advanced privacy settings
G Cloud Backup
G Cloud Backup is a free android app that will protect every form of data in your mobile phone including contacts, messages, photos, videos, music, documents, and call logs. It will automatically back up everything which prevents the loss of any data. Even though the free plan comes with only 1GB storage space, you can earn up to 10 GB through referrals. The paid plan will allow the unlimited data to be backed up to five devices. It also comes with features that will transfer the data easily.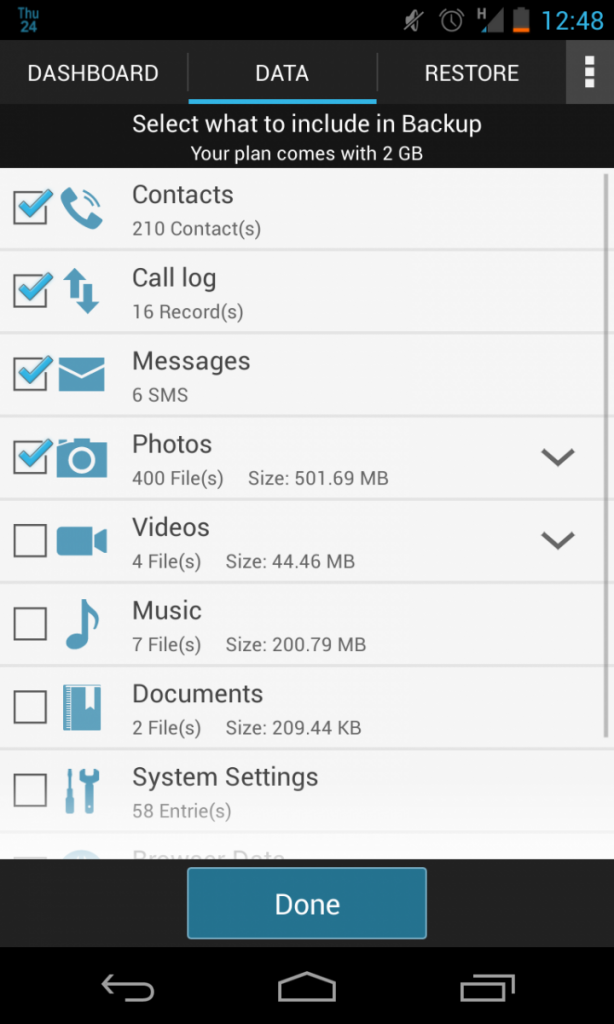 Pros
Customisable scheduling
256-bit AES for security
Passcode feature for privacy
Data transfer is secured with SSL
The app is protected with a passcode
Cons
No private encryption
No desktop app
Box
Box is one of the most used android backup apps. It is known for its efficiency in file syncing. It comes with 10GB free storage space and backs up photos, videos and documents in all formats. It is suitable for professionals as it saves high-quality powerpoint presentations. It will allow you to share files with fellow professionals with a link and give editing access too. Box has features that will allow offline access as well.
Pros
Ensure security
High-level encryption
Search options within folders
User-friendly
Cons
File size limit for free accounts is 250MB
Yogile
If you are an avid photographer with a phone full of photographs, you should probably install Yogile in your phone. This will ensure that your photographs are never lost. Yogile is an app that is designed to store an unlimited number of photos. The app has features that allow you to organise the collection into albums. The images can be saved in their original resolution and in all formats. Yogile allows you to share these images with your peers and edit them as well.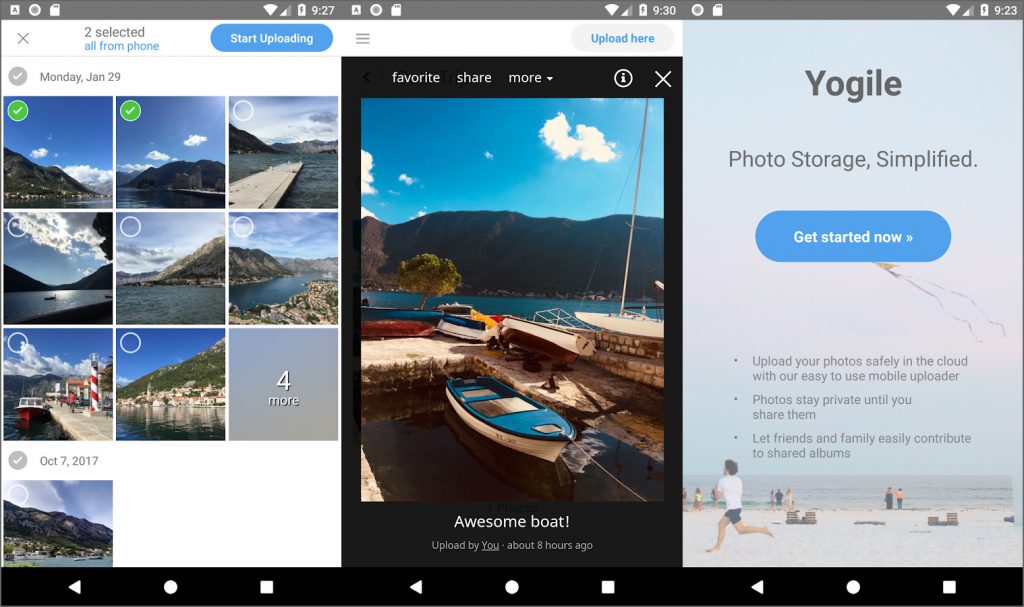 Pros
User-friendly
Share files with a link
Password protection
Excellent layout
Browse photos based on location and date
Loading time is fast
Cons
Designed to save only images, not other files
Dropbox
This veteran backup tool is excellent for sharing files and syncing devices. All files including images, audio, contacts, and documents will be backed up in this app. The settings will allow you to turn on automatic backup which will prevent the loss of any data. The paid plans of Dropbox will get you storage space up to 500GB.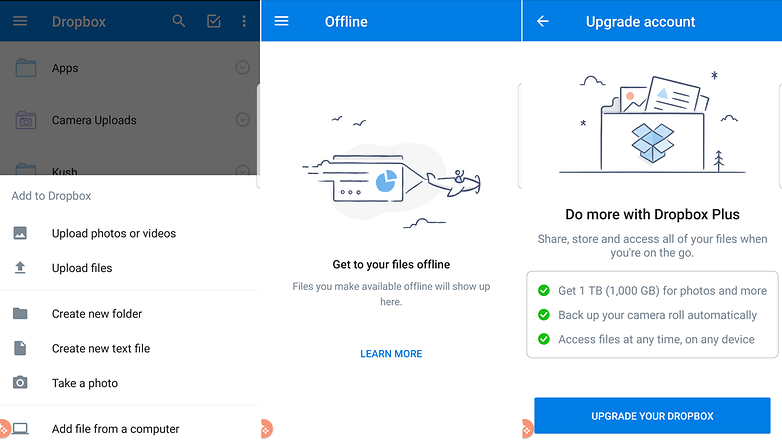 Pros
User-friendly
SSL encryption
High security
Cons
Free storage space is only 2GB
Expensive
No easy access for collaborators
MediaFire
MediaFire is one of the android backup apps that comes with great storage space and budget-friendly plans. You can get up to 50GB storage space in the free plan itself. Signing up to the app will give you 10GB storage space and the opportunity to earn more. Posting the referral link on social media is the beginning of earning more free space. The paid plan will get you up to 100TB storage space. The app is designed to tailor both personal and business use. MediaFire supports all kinds of files including images, video, audio, and documents.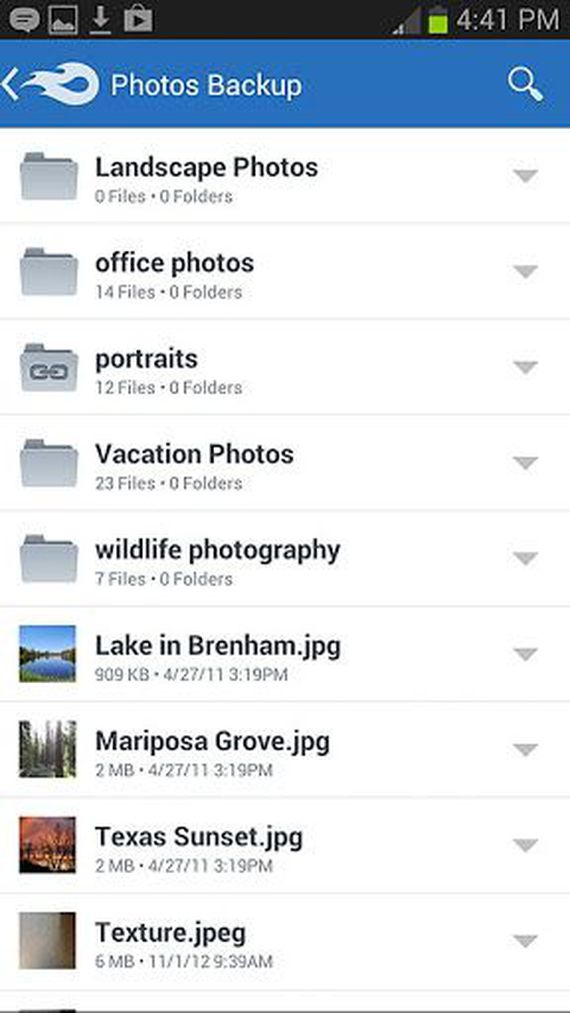 Pros
User-friendly
Multiple devices can be synced.
Great speed
Budget-friendly
Automatic backup
Cons
Customer care isn't very efficient
IDrive
IDrive free plan comes with 5GB storage space and a bunch of great features. It has a user-friendly interface and great file syncing ability in several devices along with androids. The paid plan will give you up to 1TB storage space. IDrive will backup all kinds of files including images, videos, audio, and documents. It has good organising layout and offers high security.
Pros
File sharing is efficient.
Good customer care
Automatic backup
File versioning is available.
256-bit AES encryption
Cons
Only plan available is yearly.
Expensive
It comes with pop-ups
SugarSync
SugarSync is known for its great syncing abilities and user-friendly interface. It can synchronise files across several platforms including Mac along with androids. It doesn't offer a free plan, and the paid plans offer up to 1TB storage space. SugarSync has tried to make up for the lack of free storage space with a 30-day free trial. The app is designed for personal as well as business usage. If you want more than 1TB storage space, you are free to design a custom plan as per the requirement.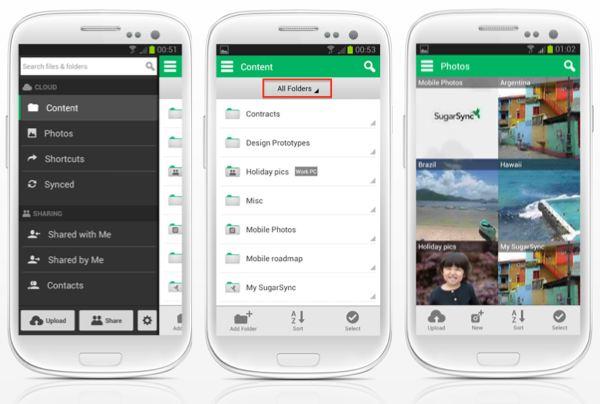 Pros
Cons
Expensive
A limited number of users in certain plans
No free plan