Cloud storage solutions are almost inevitably sought after by businesses because of the significant easing of the burden on their infrastructure. Cloud services are basically like outsourced solutions. Your data load is handled by the infrastructure of an external provider which can be accessed anytime on any device. Your server, data center and hard drives are all free, so they can be used to improve your efficiency. There are various kinds of business cloud services on offer, and storage is one of the primary tasks demanded by businesses.
With increasing competition and rising customer expectations, the pressure to streamline is much greater than before. So, without further ado, let's look at the top cloud storage providers out there. Before we head to the solely storage-oriented cloud providers and highlight their pros and cons, we thought it essential to mention the more comprehensive cloud services that offer storage as well as a host of other services beyond that.
Starting with the well-known cloud providers, Microsoft Azure is one of the top ones out there. Its features have enabled it to win a big government contract recently. Azure offers a range of cloud services and features apart from just storage. It provides analytics, machine learning, block chain, containers, databases, developer tools, etc. It also features the Windows Virtual Desktop and the Microsoft Azure Stack among other services. 
One of the comprehensive features of Azure is the range of security options on offer, as the screenshot below shows: 
Another factor in favor of Azure is its intelligence features. The products offered as part of Azure can be seen in the following screenshot:
You can also check the storage options on offer, which themselves are exhaustive: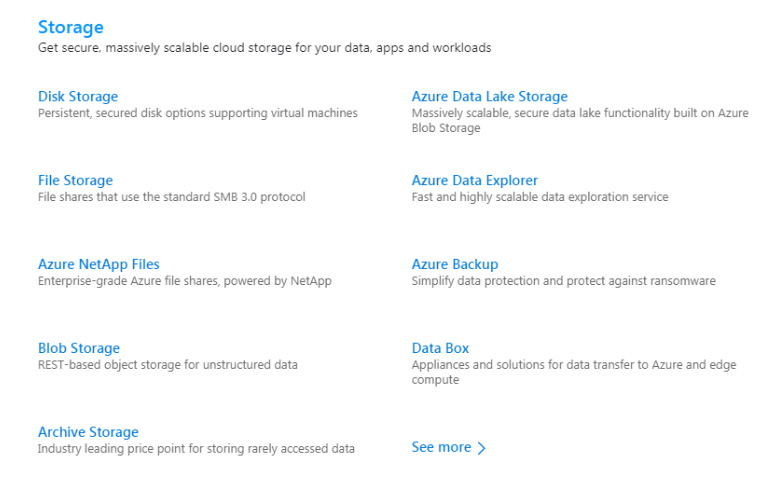 Pros:
Impeccable security 

High availability and redundancy 

Highly scalable

Customizable user experience

Cost-effective
Cons:
Needs expert management

Steep learning curve

Expertise in platform required 

Poor DevOps support
Microsoft Azure is primarily a good product for larger enterprises. It may prove to be expensive and rather complex for small and medium companies.
Pricing: Starting at $13 per month. Customized per-minute pricing offered.

AWS is the world's most popular cloud provider, with customers numbering in the millions. It is also the most comprehensive, with more than 165 services from its global data centers. Among the services are Simple Storage Service, Virtual Private Cloud, AWS Data Transfer, EC2, AmazonCloudWatch, DynamoDB, AWS Key Management Service, Simple Email Service, Route 53, etc.  The following screenshot reveals the menu:
The security features on offer are extensive too. AWS has network architecture and data center that are crafted for organizations sensitive to security. DDos mitigation, infrastructure security, data encryption, monitoring and logging, penetration testing, inventory and configuration, etc. are the features on offer. In terms of storage too, Amazon offers a great deal of features, including a range of block, object and file storage options.
Pros:
User-friendly

No limits for capacity

Speed and agility

Reliability and security
Cons:
Default limits on resources in certain regions

General issues with cloud computing 

Security limitations

Fee charged for immediate technical support
Pricing: Pay-as-you-go model. Free tier offered.
The cloud platform of Google offers features quite like what Azure and AWS offer, in areas beyond just storage, such as machine learning & AI, security, virtualization, identity, database, DevOps, etc.
Google also offers many of its services in the cloud, and these include G Suite, Chrome Enterprise, Android Enterprise, Google Maps Platform, Firebase, Orbitera, Apigee, and Google Hardware. More than 200 countries, 61 zones and 20 regions are covered by Google Cloud. Its Storage options include the Drive option from G Suite as well as Google Cloud Storage.
Pros:
Durability

Better pricing than competitors

Excellent security

Improved performance

Separate storage classes for each application

Easy integration with other Google services

Allows live migrations of Virtual Machines during maintenance events
Cons:
Steep support fee

Google Cloud storage data expensive to download

Web interface can be confusing
Pricing:
$300 free credit offered for 12 months. Basic package starts at $150 per month.
IBM Cloud is also one of the popular cloud storage options available. The home of Watson offers features in the SaaS (Software as a Service), PaaS (Platform as a Service) and IaaS (Infrastructure as a Service) categories with private and public cloud models as well as hybrid ones. It offers object storage, block storage, file storage, and IBM cloud backup.
Pros: 
Cost lower than competition

Great performance

Quick customer service

Customizable features
Cons:
Synchronization delays reported

Beginners could find it overwhelming

Pricing model complicated 
Pricing:
Free access for Lite version. Pay-as-you-go arrangement offered. Discounted prices offered for 1-year or 3-year commitments.
Oracle Corporation's cloud platform involves SaaS, IaaS, Paas and DaaS (Data as a Service) products. The IaaS Oracle cloud offerings are Storage, Database, Networking, Compute, Ravello, FastConnect, DNS Monitoring and Load Balancing. PaaS offerings include Data Management, Business Analytics, Security, Application Development, Content & Enterprise, and Integration. SaaS offerings include HCM, CX, ERP, IoT, EPM, SCM, Data, Blockchain Applications and Analytics. The Oracle Data Cloud comes under the DaaS category.
Pros:
Flexible storage

User gets full control over network

Effective network service
Cons:
Trouble integrating with other software

Absence of keyboard shortcuts

Not exactly user-friendly
Pricing:
Pay-as-you-go pricing with per-hour usage billing. Discount offered on commitment to one-year period and monthly credit of $1000.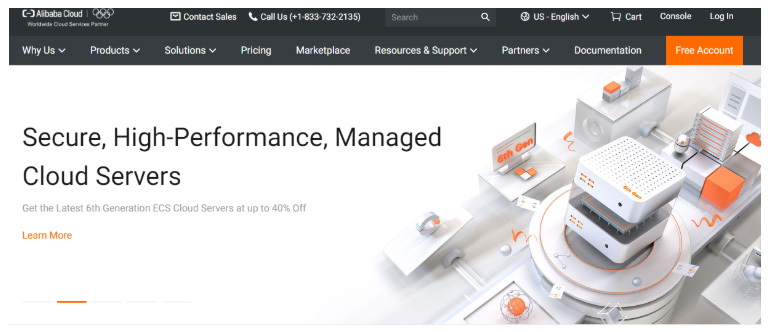 Alibaba Cloud, or Aliyun, offers various cloud services in different categories including Security, Database Services, Storage and CDN, Elastic Computing, Monitoring and Management, Analytics and Data Technology, Domains and Websites, Internet of Things (IoT), Apsara Stack, Cloud Communication, Middleware and Media Services. Though it is China's largest cloud provider and was initially created to serve Alibaba's e-commerce ecosystem, Alibaba Cloud has now expanded its public scope and is now available globally in 56 availability zones and 19 regions.
Pros:
Great for small-scale businesses

Advanced performance

Strong security and compliance

Ideal for linking with latest IoT and machine learning technologies

Wide range of services
Cons:
Customer service doubts persist

Security concerns with servers potentially located abroad  
Pricing: Pay-as-you-go model. Prepaid options also offered.
IDrive offers storage solutions that extend to network drives as well. It enables continuous file syncing. The web interface enables you to share files via Facebook, Twitter and email. And if you delete some files from your computer, they aren't deleted automatically from the cloud's server. This means you don't have to worry about involuntarily removing files. The server retains anywhere up to 30 versions of files that you've backed.
Pros:
The service is fast and user-friendly.

The IDrive Express Service comes to your rescue in the event of any issues.
Cons:
Two-factor authentication is not offered.
Pricing:
$69.50 per year for Personal tier with 2TB storage (

95% off deal

now offered, reducing per year cost to just $3.48 for first year)

$99.50 per year for 5TB plan
This cloud storage service is ideal for storing large files. Apart from some bandwidth limits, there aren't any limits to the file size that can be uploaded. PCloud is offered for desktop as well as mobile platforms. With the company being registered in Switzerland, it adheres to the strict privacy laws there. An extra charge of $4.99 per month can give you the pCloud Crypto feature for locking files with passwords.
Pros:
Extremely user-friendly

Affordable

Strong privacy rules adhered to
Cons:
No collaboration tools on offer

Its Android app leaves a lot to be desired

Customer support reportedly not up to the mark
Pricing:
$3.99 per month for Premium 500 GB version

$7.99 per month for Premium Plus 2TB version

$175 for Premium 500 GB Lifetime

Offers sometimes circulate to further reduce prices
This UK-based company has a strong pedigree. Its interface is also user-friendly and it comes with a range of web management options. You can also combine its cloud operations with external storage. All that technology comes for extremely affordable prices as a result of the company making use of the Glacier infrastructure of Amazon.
Pros:
Affordability

Hybrid backup offered

File versioning
Cons:
Pricing:
$19.99 per month for 1TB

$39.99 per month for 2TB

$99.99 per month for 5TB
As you probably know, this is a Microsoft-backed cloud storage service that is integrated into the File Explorer of Windows 10. It's there to use without the need for installing any app. The Photos app of Microsoft can also sync pictures to OneDrive all through your devices. OneDrive has also integrated Autodesk AutoCAD, so those files can also be backed up. The Personal Vault feature provides extra protection. It is also available as an app for iOS, Android and Mac devices. While you can sign up for free, free storage is only 5GB.
Pros:
Direct integration into Windows

Impressive file restoration features
Cons:
Pricing:
5GB storage free

$1.99 per month for 100GB

$7 per month for 1TB

$10 per month for unlimited storage
There are many more cloud services out there, but these stood out because of factors such as popularity, pedigree, reputation for security and user-friendliness. It's time to take your business to the cloud.