Getting a phone call or having to check the map while driving is one of the most inconvenient, not to mention a dangerous act. What better way to deal with these requirements than not doing them by yourself at all? That is exactly what Apple had in mind when they came up with Apple CarPlay in 2014. Apple CarPlay is a software that enables your iPhone to take charge of your car's infotainment system.
Essentially, the built-in audio and video system of the car will be at the disposal of your iOS device. The software will perform a number of tasks that will make driving easier and efficient. Before we get into the details here, Apple is not alone in the market. Google is in the picture with its Android Auto to give tough competition.
While most automobile manufacturers support Apple CarPlay and Android Auto, they offer their own support system as well to make driving easier. But, they do leave the option to choose the appropriate technology to customers.
Here is a quick look at Apple CarPlay and Android Auto.
Apple CarPlay
Android Auto
Developed by
Apple
Google
Initial release
2014
2015
Provides access to
Apple apps including Phone, Music, Apple Maps, iMessage, iBooks, and Podcasts
GPS- Mapping and navigation, High-quality GPS antennas, steering-wheel-mounted buttons, music playback, the sound system, directional speakers, directional microphones, wheel speed, compass, mobile antennas, SMS, telephone, and web search.
Third-party apps
iHeartRadio, Radioplayer, Spotify, Radio.com, Overcast, Pocket Casts, Google Play Music, Clammr, NPR One, Audiobooks.com, and Amazon's Audible
GPS navigation – Google Maps and Waze.

Music – Amazon Music, Apple Music, Audible, BBC iPlayer Radio, Deezer, doubleTwist, Google Play Music, iHeartRadio, MediaMonkey, Pulsar, Radioplayer, Rocket Music Player, Slacker, Songza, Spotify, Stitcher, TuneIn.

Telephony/Messaging – Facebook Messenger, Google Hangouts, Skype, Telegram, WeChat, WhatsApp.

Podcasts/Podcatchers – CastBox, Podcast Addict, Pocket Cast

Limited support for/ Doesn't support
Google Maps and Waze
TripAdvisor and Yelp
Controlled through
Touch screen, rotary cursor dial, trackpad, buttons on the instrument cluster, and steering wheel
Touchscreen, button-controlled head unit displays, and voice commands
Apple CarPlay
Apple CarPlay can perform a bunch of tasks along with the integrated support of Siri. Some automobile models demand that the iPhone be physically connected to the car. But, some models offer the option of wireless connection. Over 200 models of cars support Apple CarPlay, and older car models can avail the same benefits with the help of aftermarket solutions from Kenwood, Pioneer, Alpine, and Sony.
Apple CarPlay does an excellent job at navigation and multi-day weather forecasts while being able to do a bunch of tasks that are time-consuming. These tasks include hands-free calling, narrating reports, and web searches. Voice dictation makes sending messages easier while Apple CarPlay can read out the received messages aloud.
But, Apple steps up in terms of features with HomeKit. This feature is like remote control support. And, you can interact with HomeKit through Apple CarPlay with the help of Siri. This means you can unlock the house door while getting out of the car. Apple is very serious about not wasting time. However, vehicle settings are not part of Apple CarPlay, and the driver will have to exit the screen in order to change driving mode or control temperature. 
Most of the automobile manufacturers have made their vehicles compatible with Apple CarPlay. This includes basic models and high-end brands like Lamborghini, Honda, Chevrolet, Ford, and Porsche. Some models even include Apple CarPlay as a basic requirement. Toyota was a manufacturer that refused to make their vehicles compatible with due to safety and privacy concerns. But, they also joined the party in January 2018. The newer models of Toyota such as 2019 RAV4, the 2019 Corolla Hatch, the 2019 Avalon and many more will be compatible with Apple CarPlay.
Pros
User-friendly interface

Convenient to use
Cons
Navigation is limited to Apple Maps.

Apple CarPlay is not supported on iPads.

The car owner needs an iPhone 5 or a newer model.

Voice control through Siri may not work every time.

It is compatible with only a few third-party apps.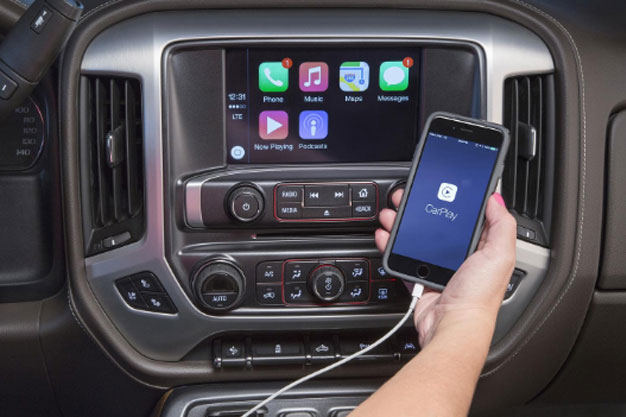 Android Auto
Android Auto is Google's version of Apple CarPlay, and as it is obvious, it comes with easier access. Anyone who has a phone with Android 5.0 Lollipop or later models can download the Android Auto app from Google Play Store for free of cost. It has a less intimidating and familiar interface that is similar to Google Now. The bigger icons make touch navigation easier than on the phone as well.
Just like Apple CarPlay, Android Auto converts the entertainment unit of the car into a dashcam. The driver can interact with the software through voice commands by pushing the car's voice button. Android Auto does a good job at all the basic tasks including making phone calls, finding directions to the desired destination, and type out text messages. However, the voice commands are limited to the apps within Android Auto.  
Android Auto supports a large number of third-party apps. And the number is significantly higher than the Apple CarPlay. Messaging apps like Facebook Messenger and Skype are also available in Android Auto. The software is supported in over 400 automobile models covering most of the major brands in the market. While the aftermarket stereo systems are available in the market, its ability to simply run it on the phone stands out. 
Pros
Wireless connection to any car.

Simple interface

Availability in most automobile models

Better navigation with the help of Google Map and Waze

Supported in all recent smartphones.
Cons
Apps icons on the screen might cause a distraction while driving.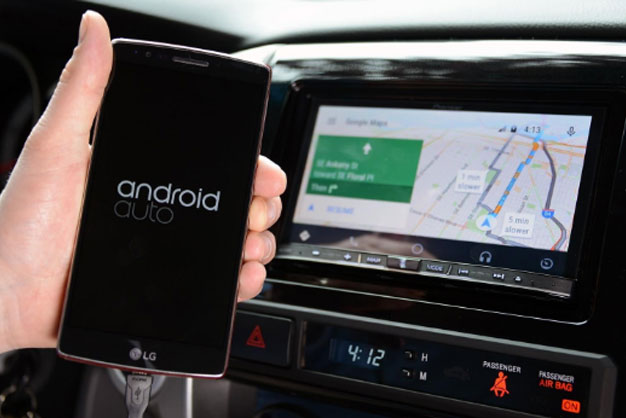 Verdict
Android Auto offers better availability than Apple CarPlay. It has the edge in terms of the number of third-party apps supported and availability in car models. It can also be used with a simple android phone and comes with an easy and familiar interface of Google. Of course, iOS device users may find it hard to cope with Android Auto. But, it is more reliable than Apple CarPlay for navigation as Apple Maps can be inaccurate at times.