Losing money up to 3% as bank transfer cost on each transaction can be challenging for migrant workers, small business owners and even for international investors. Slow and expensive bank wire transfers no longer seem to be a viable option when you could find a lot of international money transfer platforms to send money cheaper and faster.
At Reach Byte we understand that it is a daunting task to find the best money transfer services and that is why we have picked out a list of the top money transfer platforms for you to send money overseas. Read about their advantages and disadvantages to find the one that suits your needs.
PayPal is one of the most trusted ways to shop or transfer money online as it acts as an added layer of security. Paypal works better if both the sender and recipient has a Paypal account and when the transfer amount is low. It has the fastest transfer speed of 3 days and a minimum of $1 to a maximum of $10000 transfer limit for a single transaction.
PayPal charges are low for fixed foreign transfer, but they have high margins on exchange rates. Once the transfer amount gets higher so does the exchange rate markup. It has an easy-to-use website that lets you sign up and make a transfer in under 4 minutes, but it is better to look elsewhere if you are sending larger amounts.
| Pro's | Con's |
| --- | --- |
| Instant transfers to other PayPal users | International transfers are expensive |
| Resilient to fraudulent transactions | Weak exchange rates |
| Free domestic transfers. | Fees when using debit and credit cards. |
PayPal Exchange Rates & Fees: PayPal international transfer fees depend on how you're sending the money, where you're sending money to, and how you plan to fund it. Though it has no hidden fees, it has a complex fee structure. For international deliveries, there are layers of fees that include percentages and flat rates of your transaction amount. On an average, PayPal's exchange rate markups are more than 3 – 4%.
Wise (previously Transferwise)
Transfer wise was founded in 2011 and rebranded as Wise in 2021. It is an online money transfer service best for medium international transfers i.e less than $7,500. Wise provides a simple, clear, fast and secure international money transfer service bank-to-bank which is cheaper than banks. They have a transparent fee structure as it confirms the exact amount to be received and focuses on zero hidden fees. Wise has multiple payment options, so you can pay with a credit card, debit card, ACH or wire transfers.
| Pro's | Con's |
| --- | --- |
| No charges for the receiver & no hidden charges | All global currencies not supported |
| No minimum transfer size. | No option for cash pickup. |
| Transparent Exchange Rates & Fees & Low service charges | Less competitive Exchange Rates & Fees if transferring over $40,000 |
Wise charges the same fees if you are sending US dollars to all countries. Fees are determined by the amount of money you spend and based on a preset percentage. Customers can pay by debit card or credit card, ACH and bank wire transfer. It offers the mid-market rate on all transfers.
Founded in 2010, WorldRemit's online money transfer services supports underbanked people in the developing world to receive money fast and easy. Customers can sign up using a mobile app by uploading a photo id to verify identity. Costs are transparent and it allows you to transfer money to 130 countries in the world in 70 different currencies. It provides a great money transfer option for underbanked populations around the world as WorldRemit offers payment to mobile wallet or through cash pick up.
| Pro's | Con's |
| --- | --- |
| Flexible payment options | Maximum daily transaction limits |
| Worldwide network with 1000's of cash pickup locations | Fees varies based on location |
| Door-to-door delivery available | Inconsistent markups |
WorldRemit Exchange Rates & Fees: WorldRemit transfer fees vary based on location, payment methods and amount but the standard fee is $3.99 if you are sending money from the U.S. No matter how much you send, WorldRemit offers the same exchange rate. Sending to a bank account is cheaper when compared to cash payments.
XE money transfer is a globally recognised name for international money transfer to send fast money to 130+ countries. XE has been in business for more than 20 years and uses enterprise-grade security to make sure your money is safe.
XE lets you make your transfer from a bank account via wire transfer and automated clearing house (ACH). The recipient does not require to hold an XE account in order to get the money you send as the funds can be deposited to their bank account.
| Pro's | Con's |
| --- | --- |
| No minimum transfer amount. | Do not support all global currencies |
| Trusted brand with an easy to use website | Limited customer support during weekend |
| Does not charge transaction fees or commission | Only bank-to-bank transfers allowed |
For all international money transfers below $500, XE charges a $3 fee. There is no fee for any transfers above $500. XE's exchange rates are typically between 0.5% and 2% and are higher than the mid-market rate. There are cases in which you might have to pay a 3rd-party charge while receiving wire transfers.
Remitly is an online international money transfer service that has a large network with more than 190,000 locations worldwide. Remitly makes money transfers quick and easy to send over 85 countries around the world from the UK, Australia, Europe and the UK. Remitly is best for lower value transfers as they don't have a minimum transfer amount. They have a wide range of payment options, from bank deposit to home delivery. Remitly do not provide business transaction support.
Remitly has a referral program with which you can earn rewards by referring family members or friends.
| Pro's | Con's |
| --- | --- |
| Express option to send money in minutes. | Higher fees for fast/express service |
| Cash pick-up and delivery is available. | Exchange rate weaker than the mid-market rate |
| For a small amount – no verification required. | Low daily limits |
Remitly Exchange Rates & Fees:
Remitly exchange rates and fees are based on the payment method, the amount you are sending and the currency you are transferring to. While there is no fee for debit card transactions, payments through credit cards incur a fee of 3%. Payment via bank transfer has no fee if the amount is over $500. The exchange rate markup varies between 1% and 2% above the mid-market rate.
CurrencyFair is a marketplace where the users can set the exchange rate. When customers match each other, it charges only 0.25-0.3% of the total amount exchanged. CurrencyFair offers , one-off transfers – immediate one-time transfer, recurring transfers and choose your desired rate transfer in which you will wait for others to match you.
If there are no customers with a competitive rate, CurrencyFair will match you but with a higher charge of 0.4% to 0.6% of the exchanged amount.
| Pro's | Con's |
| --- | --- |
| Competitive exchange rates | Slow transfer times |
| Business feature – multi-user access, two person approval, delegate rights etc. | May incur intermediary international wire transfer costs |
| Great for non emergency transfers | Non negotiable rate. Not lower rates for larger transfers. |
CurrencyFair Exchange Rates & Fees: With CurrencyFair, you need to focus on the flat commission fee, and the specific exchange rate you have managed to get . They have you pay a flat commission fee of £2.50 per transfer (equivalent in your local currency) and remain the same irrespective of the amount transferred. Exchange rate markup typically averages 0.4% above the mid-market rate.
Launched in 1940, MoneyGram is one of the most recognizable names in the industry. Similar to Xoom, MoneyGram can move your money fast over to 200 countries on the same day, but with a higher cost. MoneyGram is great for receipts who prefer to pick up money in cash and home delivery. MoneyGram has a wide reach with over 350,000 agent locations abundant around the globe. It offers fraud reporting by phone and customer service through chat and email.
| Pro's | Con's |
| --- | --- |
| Online and in-person transfers both available | Variable fees |
| Have added markups as high as 3%. | Receiver do not have to set up accounts or go through banks |
| Transfer & monthly limit of $10,000 | Expensive than many other providers |
MoneyGram Exchange Rates & Fees: MoneyGram's exchange rates and fees may vary between agent locations and online payments. It is often the cheapest if you are having the money delivered to a bank account and expensive if the payment is through credit card and having the money available for cash pickup. In addition to any fees charged, MoneyGram adds a margin to the exchange rate.
Founded in 1998, OFX is great for large international transfers between bank accounts. It does not offer same-day transfers but provides a lock-in rate feature, in which customers can lock-in a specific rate before transferring the money. OFX has an easy money transfer tracking option and of your transaction history using your private account. Depending on location, payment method, amount and other factors it can take from one to two days up to three to five days to receive the money.
| Pro's | Con's |
| --- | --- |
| 24/7 phone support. | Minimum transfer amount of $1,000. |
| Good rates for transferring higher amounts | No cash pick up |
| Safe service and is a well established brand | May require to speak to customer care rep to trade in currencies |
OFX charges 1.5% or less above the mid-market rate for money transfer, It doesn't charge fees but a margin to the mid-market rate. It is beneficial for you if larger funds are transferred as the percentage taken by OFX gets smaller.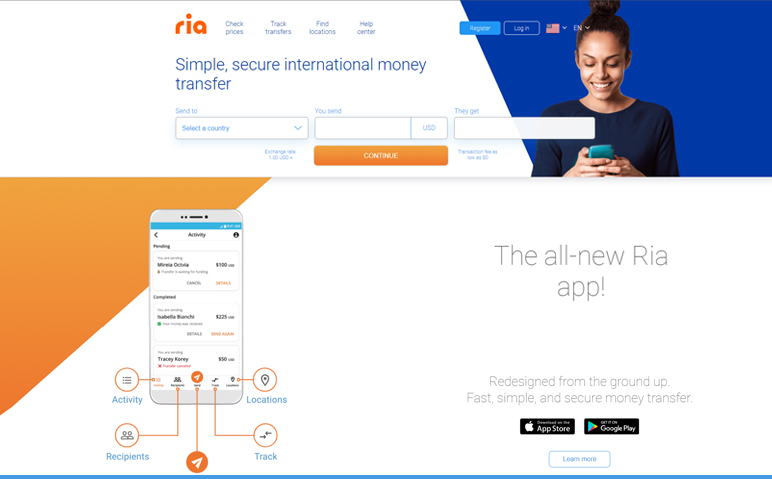 Ria provides international money transfer services, with a worldwide network that is spread in 167 countries with 397,000 cash transfer and payout agent locations. Its agents include supermarkets, retail stores, gas stations, post offices and even bank branches. With these many locations, Ria's services are easily accessible to those who wish to transfer funds overseas.
Ria's fastest payment options could be ready for cash pickup within 15 mins, while the cheapest transfer option may take up to 4 business days. Though the fastest option may charge an additional cash advance fee, it comes in handy if there is an emergency.
| Pro's | Con's |
| --- | --- |
| Multiple payment options | Maximum daily/monthly limits – $2,999 daily or $7,999 monthly |
| Worldwide transfer network | Inconsistent exchange markups |
| Fast transfers with bank-beating rates | Fees for card payments are higher |
Ria Exchange Rates & Fees:
Ria charges fees that vary depending on the location, amount, payment method and delivery. For instance, if you are sending $1000 to Egypt, you'll be charged $35 if you pay via credit card, $5 if you pay via bank transfer, $9 if you pay using cash and $15 if you pay using a debit card. No matter how much you send it offers the same exchange rate.
Highly popular with forex traders and online gambling customers, Skrill is a international money transfer/payment service that focuses on quick transactions for regular money transfers as well as transactions using cryptocurrencies.
Skrill offers both business and business accounts, and their payment methods include debit/credit card, bitcoin, bank transfer, or e-wallets like Klarna, Trustly and Neteller. After setting up your account on their app or on the website making transactions is easy as Skrill provides a wide range of payment and withdrawal options.
| Pro's | Con's |
| --- | --- |
| Easily send money email address or phone number linked to a bank account | Fee structure is complex |
| Available in 200 countries | Expensive than other alternatives |
| Can buy & sell cryptocurrency | Limited currency and country support |
Skrill Exchange Rates & Fees: Skrill has a very complex exchange rate and fee structure. The amount varies based on the chosen payment method. A currency conversion will cost more than the mid-market rate by more than 3.99%. Skrill charges €25 for a transfer reversal or €5 if you are inactive i.e make no transfers in a 12 month period.
Xoom was launched in 2001 and acquired by Paypal in 2015.
Although it will cost you in fees, Xoom supports instant money transfer internationally. Xoom only accepts transfers via debit or credit cards and checking account. Xoom does not allow cash payments, while recipients can receive money via cash pickup or bank deposit. In order to receive money, Xoom transfers recipients do not need to create a PayPal account. It lets its customers send money to 131 countries, but it only permits sending money from a few countries such as Canada, U.S., and the United Kingdom.
| Pro's | Con's |
| --- | --- |
| Excellent transfer tracking | Government-issued ID required |
| Full money-back guarantee for refunds | Live chat option is not available |
| 24/7 support for phone and email | High exchange rate markup and additional fees |
Xoom Exchange Rates & Fees: Xoom fees depend on mode of transfer. Paying by credit card has higher fees than paying by bank transfer. It also depends on where you're sending the money. Exchange rate is based on how much you're sending. Fees vary from lower to a higher amount.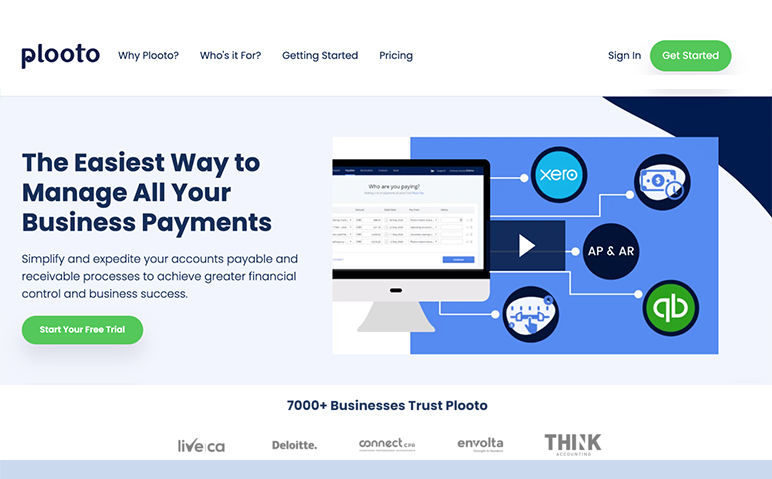 Being an all-in-one automated accounts payable & receivable, Plooto offers great financial control for bookkeepers, accountants & small businesses. With Plooto businesses can save on expensive wire fees and make international payments for a flat fee of $9.99. It offers a great rate regardless of the value or number of global payments you make.
International payments have specific limits that vary depending on the currency and country. For instance, if the dollar is your sending currency and Euro is your destination currency the payment limit is USD 500,000.
| Pro's | Con's |
| --- | --- |
| Excellent payment for platform small business | Possible payment delay |
| Smooth integration and easy to use. | Fixed monthly fee |
| Secure way to establish multi approval payments. | No automatic refund option |
Plooto Exchange Rates & Fees: Plooto has a subscription fee of $25 per month. While domestic transactions are charged 50¢ flat fee per transaction (after 10 domestic transactions), each international payment is charged $9.99 flat fee per transaction. The final exchange rate is locked in when debiting is started. The final exchange rate may be different. if the payment is being created well in advance of the scheduled debit date.
Razorpay is a modern payment gateway currently available only for Indian businesses that are online to recieve, process and send digital payments through several payment modes like prepaid digital wallets, credit/debit cards, net banking and UPI.
For eligible registered businesses Razorpay supports accepting payments through cards issued by any overseas bank. It has a lower pricing than Paypal, can receive payments in 100 currencies and do not have any integration changes.
| Pro's | Con's |
| --- | --- |
| Can receive multiple payment methods | Delay in account activation |
| Low transaction fee for both local and International transactions | Long process for problem solving |
| Good currency conversion rates | Limited option to customize getaway |
Razorpay Exchange Rates & Fees:
Razorpay no zero setup or maintenance fees but a platform fee of 2% for standard plan and custom pricing for enterprise plan.
Razorpay charges two percent per transaction for domestic transactions with Indian credit and debit cards, UPI, Net banking,and Indian Wallets and charges three percent per international transaction for International Cards, EMI, etc.
Choosing the best international money transfer platform for you
All of the names in our list are faster money transfer platforms equally safe as your trusted bank. They have strong reputations in the industry making international money transfers simpler and more cost-effective than ever. Whichever option you choose, make sure you verify the recipient details and keep records of your transaction. Keep in mind that the cheapest might not always be the best as some providers are slower than others.
At Reach Byte we always encourage you to read the fine print and compare pricing between platforms before sending money. The best transfer platform should show you exactly how much your recipient will get before you make the payment. We recommend being wary of providers that advertise 'zero commission' or 'no fees' because this might mean there are hidden fees that you may not be aware of or told about. The key to understanding your short and long term requirements to find the best suitable platform or platform to make tangible savings.