Wondering how to transfer files from Mac to Android? Data is of prime importance to any business and it may have to be securely and easily transferred among multiple platforms and operating systems. Mac is one of the most important operating systems, while Android is the more popular operating system for mobile devices. That's why people always look for an Android file transfer app for Mac. We have selected some of the best apps out there for transferring data between Android and Mac. Some of them also offer other features, including automatic syncing of data between the two devices.
Commander One offers dual-panel file transfer from your Android device. It's got a host of features.
It helps you browse iOS files. It integrates with the popular cloud storage services out there and helps you to work with hidden system files. You can find other features in the screenshot above. The Terminal Emulator feature helps you manage system processes.
Commander One is available for free. Its dual pane system of file management is its greatest asset. It features unlimited tabs so you can open as many folders as required. You are offered three viewing modes – Thumbs, Brief and Full. These modes enable you to work conveniently with various kinds of files. You can also set your own fonts and theme for the dual panel interface. The custom themes or modes come with extra cost though.
Another advanced feature of Commander One is the Regular Expressions (RegExp) tool that helps you search for folders and files on any disk, even if the files are compressed. It ensures more precise search, since you are offered flexible settings. You can even search for words inside the document, if you don't remember the file name. You can make the search case sensitive too:
If these search features can't help you find the file you want, you can always use Spotlight search. It's generally got positive ratings.  The paid Pro pack offers a lot more features.
This free app is available for not just Android devices, but also Windows, Symbian and Mac OS X devices. It only provides file transfer, but, considering the compact nature of the app, it isn't much of a disadvantage. It provides high speed transfer of multiple files and folders through LAN. It supports many platforms and is quite user-friendly with the functionality of its drag and drop feature. It doesn't require an Internet connection and requires zero configuration. Best of all, being open source, it's free.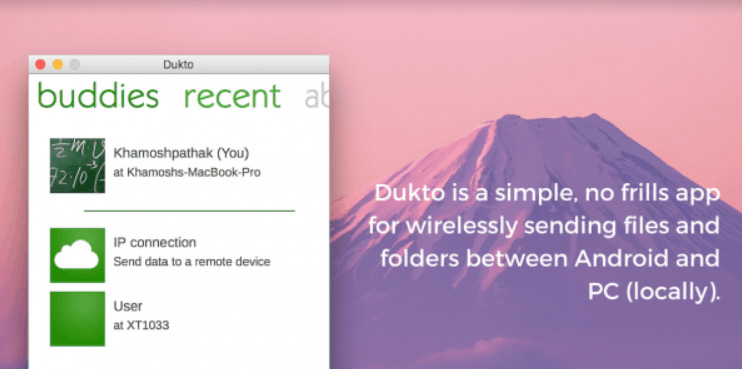 Received files can be directly opened from the application. You can transfer text snippets and URLs too. Dukto R6 offers total Unicode support. The IP addresses of your devices are shown on the connection page. You get a transfer log when you can check out the data you have transferred. The app creator claims that it has been certified and tested by Brothersoft, GearDownload and Sofpedia.   
The only disadvantage is that no support or updates are available. That means there are no fixes available for any bugs, or any security updates. But users are quite satisfied with what the app offers.
Another compact Android file transfer app for Mac is MacDroid. Despite being a small app, it is powerful enough to offer you problem-free file transfer. You don't need any drivers, plugins or extensions. You only need a USB cable, through which you can transfer images, videos, music and other files. It works best on Catalina and other later Mac OS versions as well as OS X Yosemite.
You can connect external as well as internal Android storages. All your Android files can be accessed in Finder. Along with Android, MTP devices are also supported. With MTP mode, you can connect other devices such as media players and cameras.
You can also connect devices with the ADB mode, which is a smoother and faster method of file transfer.  
The MacDroid interface is user-friendly, and there aren't any complexities involved. The MacDroid PRO paid version, available for $1.67 per month but billed annually, gives you more features including the option to transfer files from Mac to Android and vice versa — two-way transfer.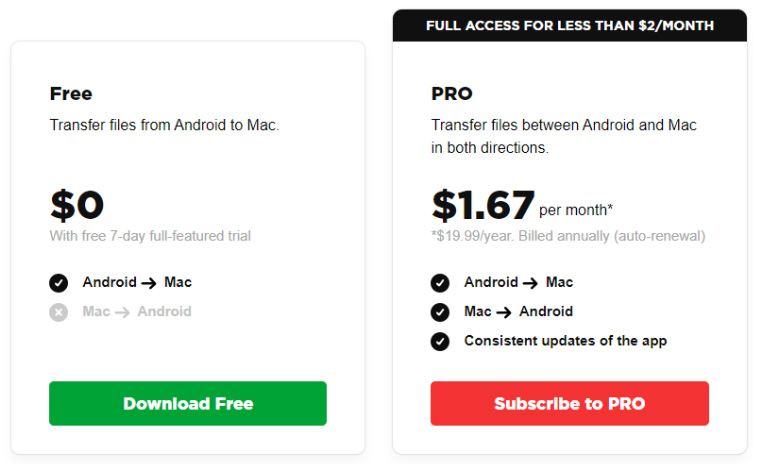 Even without having to save them on your computer, you can edit Android files in any app on Mac. All you need to do is open the files through Finder. Carry out the editing and then save the changes you've made. You also get the option to rename, delete, duplicate and even create new Android folders on your Mac device directly!
SyncMate is compatible with the Catalina version of Mac OS and supports multiple devices. Android devices can be mounted as external disks, and with the finder you can browse your Android device. All you need to do is drag and drop to and from the Android device.
Apart from data transfer, SyncMate can sync files between Mac and Android. So, it automatically keeps updating both the devices simultaneously and syncing them. SyncMate supports calendar and contacts syncing along with music, playlists, photos and folders.  It can directly sync between the apps you have on your Android and Mac devices. But it also provides you with the control of manual transfer. This combination of automation and manual features makes this quite a unique android file transfer for Mac OS.
For file transfer between the Mac and Android platforms, you would need to use the Expert version.
HandShaker enables high-speed transfers between Mac OS and Android through Wi-Fi. Apart from file transfer, HandShaker enables effective management of content on both the systems. Another plus point is that it is a freeware app, meaning you don't have to pay anything.
Everything seems to be working in its favor. However, it does not have a Windows version. Some users have reported its failure to get connected to the device. Its last update was back in 2017 and some bugs have reportedly not yet been fixed. Apart from that, it's a user-friendly and high-speed option to transfer files. 
It has been approved by Apple, which is why you can find it in the Mac App Store, from which you can directly download it. It facilitates file drag and drop between Mac and Android devices. You can also access data from the microSD card of your phone and transfer the files. All these features available for free make this is a great file transfer tool.
This is Google's own app and a free service. It isn't too complex and does not boast of extravagant features, but it gets the job done. You can see it as just a file transfer app and nothing more. In fact, you can transfer many files from Mac to Android and vice versa, without having to compress them. You can transfer videos, photos, phone contacts, etc via a USB cable.
It's quite an old app, but Google has managed to improve and refine it over time so that it's compatible with the new versions of Mac OS. Users have experienced trouble-free service.
AnyTrans is one of those comprehensive syncing solutions. The software supports all Android versions, no matter how old your Android device is. Through .apk files, you can sync photos, videos, music and apps. A secure protocol is used for connecting Mac and Android devices. That contributes to your file safety.   
With AnyTrans, you can also download music videos for free, as an alternative to any other music streaming service. The disadvantage is that users have reported delay in the software recognizing the device.
Conclusion
These are just seven of the top file transfer apps. Each of them has its pros and cons. The paid versions offer more features, but if simple file transfer is what you're looking for, free versions are great. Download the most appropriate tool for Android file transfer for Mac.